Blocks heat & UV rays
in the summer

Blocks cold
in the winter

Saves money and
the environment
Green for the earth and your wallet.
Patented SmartSheer semi-sheer curtains provide abundant light while delivering greater privacy and significantly more energy-savings than a standard sheer.
Save approximately $10 per window per year in home energy costs by blocking the excess cold in cooler climates and strong summer heat in warmer climates. SmartSheer also helps control fading of your interior furniture and carpets by filtering out unwanted harmful portions of the UV spectrum.
Privacy without the darkness
SmartSheer curtains offer greater privacy than a standard sheer while allowing beautiful natural light to enter your home.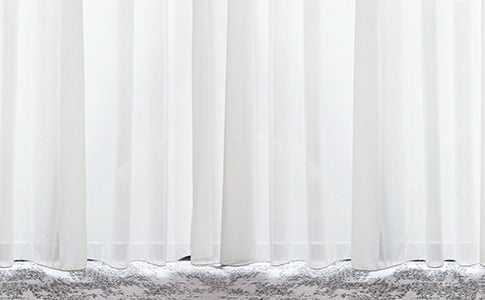 "We live in an area that gets very hot in the summer and very cold in the winter.
This little sheer does exactly as advertised.

Wish I had found this years ago!!"

Jim S
SmartSheer Curtains ProvideThermal Insulation
SmartSheer curtains are designed for people who wish to protect themselves and their indoor space from the sun. A thermal sheer curtain is also an appropriate choice for property owners who want to maintain privacy while not compromising light. Sheer or semi-sheer curtains are available in a variety of sizes, fabrics, and colors to meet the specific needs of homeowners adding sophistication to an indoor space while maintaining privacy.
One of the commonly asked questions about SmartSheer thermal curtains is do they offer insulation advantages to users in addition to the known properties of a typical sheer. SmartSheer curtains have been designed to help property owners cut back on their overall energy consumption by offering better insulation. With sheer thermal curtains from SmartSheer, consumers can rest easy knowing that their annual energy cost can be reduced by $10 per year per window so you can increase energy use efficiency while also putting more money in your pocket. 
Available in a wide range of size and measurement options to fit panel and frames, sheer curtains from SmartSheer not only add to the energy use efficiency of the home but also add to the decorative look of the space. Our curtains can be used in many ways, as a primary window treatment or paired with blinds or shades or even layered with heavier draperies to meet your design aesthetic.
Your search for the best curtains for your windows and door panels ends here. Whatever style you are interested in, we have them in stock and ready to deliver to you as fast as possible. Enter our catalog to browse the wide array of SmartSheer thermal curtains.
Do Our Sheer Curtains Block The Sun?
Yes, absolutely. This curtain can be used for a variety of purposes, one of which is to limit the intensity of the sun in your interior spaces. It is available in a variety of colors, textures and styles, making it easier to use for blocking the sun. While this curtain option is attractive on French doors, glass entry doors and windows, it can be used to limit the view of the external environment from the interior space as well as ensure your privacy within your home. Because these curtains are light and airy and have the ability to create a soft background in rooms, you can rest easy knowing that you do not have invest in heavy draperies to achieve the goal of privacy and sun-blocking.
In addition, your sheer thermal curtains also present the benefit of light filtering. The light filtering property of SmartSheer curtains allows users to reduce the intensity of sunlight and glare that is penetrating into their indoor space. For homeowners whose windows face south or west, chances are high that the windows may get a large dose of sun. This makes our sheer thermal curtains the right pick to not only control indoor temperature, but also to protect furnishings and upholstery in an indoor space from damage caused by UV light and fading.
What are the best thermal curtains?
There are different types of sheer thermal curtains and they differ mainly in the color, texture, and the fabric types used. The best thermal curtains are those that meet the specific needs of the consumer. Here at SmartSheer, our aim is to provide you with the best customer service towards choosing the best sheer thermal curtains for your needs.
We carry a wide variety of thermal curtains to complement your interior decor and enhance the appeal and beauty of your interior space. Your search for the best thermal curtains for your windows or door panels starts from the selection of materials used. 
Our sheer thermal curtains will make you forget about outdated material varieties like gauzy cotton, net, lace, silk, metallic threads, jacquards, and dotted swiss when you experience the benefit of curtains with patented technology.
Important things you should know about our products
• SmartSheer curtains are available in a wide variety of colors, textures and styles.
• Here at SmartSheer we pay attention to every detail and have ensured that each one of our products carries the highest standard of quality that we hold ourselves to as a brand.
• SmartSheer aims to put a stop to your search for the highest quality sheers for your home window panels by delivering our products directly to your address nationwide.
• Our products are available in different sizes and measurements to cater to the size of your window panels, door panels, and rod pocket.
• SmartSheer curtains are affordable and we have ensured that each one of our products offers a competitive price to consumers.
Benefits of Choosing Sheer Curtains
They are perfect for diffusing sunlight. Sheer thermal curtains are made from materials that are lightweight and act as light filters. This means that although light is allowed into the room, the material serves the purpose of softening the light, improving privacy, hiding unsightly views, and providing protection for a home's furniture, fixtures and flooring.
They add daytime privacy to the room. These curtains are perfect for adding privacy to an indoor space while also not shutting out light completely. This curtain option is great for people who like the view out, but don't want others to see in.
They provide softness, texture and movement. Our curtains can serve as a wonderful transition piece between the outdoors and indoor living spaces. Using sheer thermal curtains can improve a room's ambience by softening incoming light and creating an impression of more height.
Browse around and view the collection of products we carry at affordable prices for any door, window, panel or fixtures in your home.
Please feel free to contact us with any and all questions. We promise stellar customer support and 100 percent customer satisfaction.